Hairless Dogs Breeds. Although hair is the beauty of dogs breeds some people seem fed up from the heavy fur and hair of their pets that is a major issue that it creates a mess due to hair falling and it makes hard for cleaning quilts and floors so it is no need of worry because there is a variety of hairless breeds that are lovely friends and companions. It has a variety of causes that show hairless breeds are more friendly and good fellows. These are the best choices of the people who are suffering from pet allergies due to hair and heavy furs.
American Terrier:
American Terrier is a brown colored and white spotted cute dog. This is a family dog that likes to remain in human company. These breeds are playful and very intelligent. Terriers are in two beautiful breeds that are attractive with shiny coated and hairless bodies. These are excellent companions for people who are allergic. These dogs are smart and active. They have a weight of 12 to 16 pounds along with a height of 16 inches. These are small dogs that are active and come in a variety of colors.
Chinese Hairless Dogs:
A hairless Chinese Crested is very cute as it has a tuft of hair on their heads that looks awesome and attractive. These are small, hairless dogs that have a playful and intelligent mind. They are quick seeker that adopt all habits quickly and rapidly. These are lovely friends that give an enjoyable time for its owner and are a good companion for hiking and running. These are lightly weighted of only 8 to 12 pounds and have a height of 13 inches. These are hairless and shiny coated dogs that have a calendar body shape. These dogs come in funky colors of pink and white.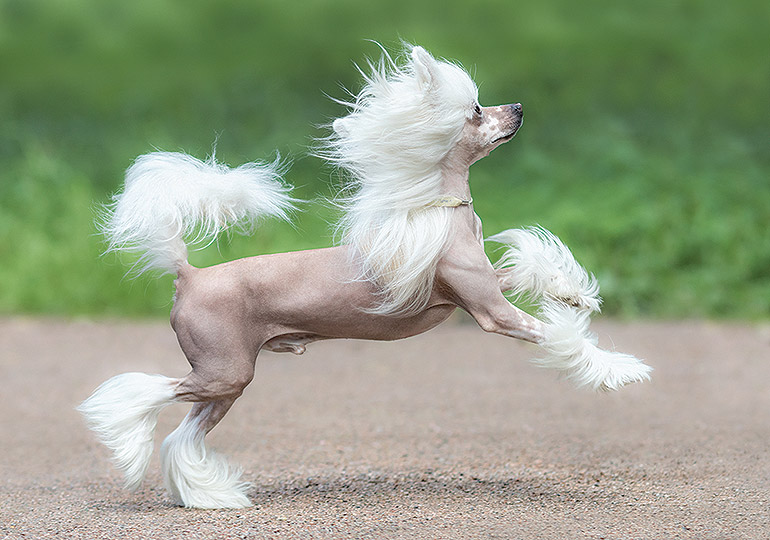 Xoloitzcuintli:
Xoloitzcuintli is a Mexcian dog that has a hairless body. Its color is black skin, pink ears, and wrinkled forehead. This is a classical breed that has low maintenance and friendly in nature. This is hairless hair that is loyal, playful, and cute in appearance,. The coat of the dog is shiny and attractive. So if you have pet hair allergic than it is a perfect choice that is matchless in this negative and best friend in the hiking and running activity.it is not a lazy bluffer but also is a sharp-minded dog that possesses all qualities that makes it the most favorable for everyone.
Peruvian Inca Orchid:
Peruvian Inca Orchid is a hairless breed that has a slight layer of hair. It has deep wrinkled eyes that come in a variety of sizes and can choose according to the choice. Small-medium and large size makes it convenient to choose according to your choice. These have racial Peru that is a unique and wonderful due to its intelligence and playful nature. It has a smart lean and slender body that attracts the attention of everyone. This dog breed is wonderful in their muscles and fast runner that gives an excellent time to its owner.
Jonangi Dogs:
Jonangi Dogs are matchless breeds that are Indian in their race and have ancient and world-famous due to their use of hunting. These are powerful in their muscles and have a competitive time. They have a friendly nature but do not happy in the company of strangers and it is a risk to leave them alone in the company of strangers. These are hairless breeds that are intelligent and speedy runners.